Amazon – Preventative Maintenance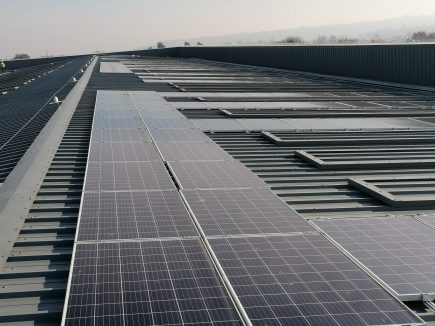 The Amazon PV installation
Checking panels during
the preventative maintenance check. 
Daventry, Northants
Client: Amazon
Time for a visit to Amazon in Daventry for their three-monthly preventative maintenance check of the 590kWp (2,185 panels) rooftop solar PV system.  
As always, prevention is better than cure and it is always advisable to keep to a regular routine of checks to ensure your system is running effectively and in good working order. Our maintenance checks will identify any faults or damage to the system, check for performance and safety as well as recommendations for cleaning. 
Using Safety Culture inspection software, Helios inspected and tested all elements required that the Amazon installation and identified faults including: incorrectly torqued mid and end clamps (which keeps the panels in place) slipped panels and underperforming strings. Panels were not sufficiently soiled to recommend cleaning. 
Helios were instrumental in developing the UK's first rooftop PV maintenance guidelines and are the only UK O&M company to be liaising with UK insurers in developing a Joint Code of Practice that will ensure that all testing, inspection and maintenance that is carried out on your solar PV system, will be in line with the latest UK solar industry testing and inspection guidelines to ensure that any system faults or improvements will be brought to your attention. 
Prevention is most definitely better than cure, so put in place regular routine maintenance for your solar PV system today.
Solar panel cleaning by Helios? Good Call!
Feel free to call us today on 01525 632238 or email robert@helios-om.com to discover how easy it is to have your solar PV system tested and inspected by the UK's leading solar panel cleaning & maintenance company