Clean Earth Energy – Slough Court Somerset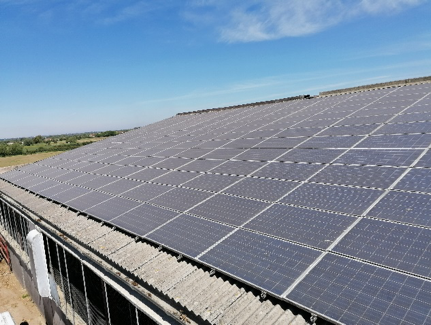 Slough Court, Somerset – Client: Clean Earth Energy
Another case study about perseverance.
And another great result.
Following fantastic results at a farm near Truro, Clean Earth Energy instructed Helios to clean two arrays at Slough Court, a dairy farm, in Somerset.
Following a survey of the site, Helios anticipated that the clean would take one full day.
Which with hindsight, was possibly a little optimistic.
On Helios' first visit, we arrived on site and set up our equipment and turned on our water pump to feed the water to our robot from the IBC's on site that were supplying the water.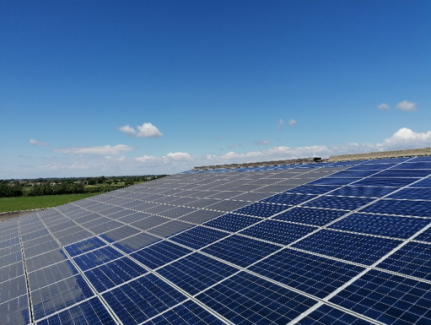 No water. 
Which for panel cleaning, is fairly high up the list of "must haves".
Despite trying various things to get the pump working, we couldn't get it to work, so had no choice but to leave site. And drive the 3 ½ hours home.
Not to be beaten, we arranged to go back to the site the next week, complete with a full tank of purified water, so that we could commence with the works and get the job done.
We'd arranged to fill our tank up with pure water in Bristol in the evening and take the full tank to Somerset to where we staying only 2 minutes from the farm.
However, upon arriving at the filling station in Bristol, we found it out of order. So weren't able to fill up. This delayed us by two hours the following morning and then we had to wait around for another 1 ½ hours for the cows to be moooved from one area of the farm to another – right across our access point.
Eventually we were able to set up, with water, robot, good weather and joy in our hearts that we could start the work!
After cleaning began however, that joy was short-lived. The panels were filthy. We went over the panels two times, three times, five times, nine times – twelve times in some instances, to be able to get them to a standard that we were happy with.
This obsession with perfection soon left us feeling a little helpless – we were going through way more water than we'd usually do, it would take quite a while to refill our tank – and there was no way on Earth that we'd complete one array, let alone two in that day.
So we drove the 3 ½ hours home…
But not before telling the farmer that we'd be back the following week, at 8.00 a.m. on Monday morning to finish the work and that it would take us approximately two further days to complete, due to the severity of the soiling.
Monday morning – 7.45 a.m.
Having travelled down the night before, Helios felt fresh and ready to take on the cleaning. We had water – lots of it – we had everything we needed. So we cracked on. We were set up and on the first roof by 8.30 a.m. and finished at 4.00 p.m. And immediately started on the second roof.
At 7.00 p.m. we'd completed about a quarter of the second roof and felt that we could comfortably achieve the other three quarters of it the next day – before the inclement weather that was forecast to arrive the next day would actually arrive.
Tuesday morning – 7.45 a.m.
We came. We saw. We cleaned. We conquered.
And with about two hours to spare. We spent another five hours cleaning the second roof before our lightning tracker started pinging, alerting us to the coming storm.
We think you'll agree, Helios did a fantastic job.
Contact us today on 01525 632238 or hello@helios-om.com to discover how Helios can help you with your solar panel cleaning requirements.