Helios Solar Operations & Maintenance are here to provide you with some simple advice on whether or not to clean your solar panels. Robert Harley, director of Helios with 11 years' experience in designing, supplying, installing, cleaning and maintaining solar panels for the likes of NHS Trusts, Councils, Universities and a couple of small businesses called Tesco & Amazon.
Here, he gives his views on cleaning solar panels.
So, Robert. What's the point in cleaning solar panels?
Ah! Thanks for the easy opening question! It's quite a common question as there's been quite a bit of misinformation thrown around about solar panel cleaning over the years. There's three main reasons and they're all to do with increasing output and protecting the investment made into having the panels installed in the first place. They are performance, safety and longevity, let me explain more:
Performance. Clean solar panels generate more electricity. Fact. Which in turn generates more money from the feed-in-tariffs (if received) and reduces the owner's electricity bills. Quite a straight-forward answer this one!
Safety. If a solar cell is covered by heavy soiling for any length of time (usually caused by birds or lichen), all the energy produced by the cells leading into it get dissipated into the covered cell, causing it to heat up, sometimes with pretty disastrous consequences. This is called a hotspot. Cleaning reduces this risk.
Longevity. Obviously if you look after an electrical system, it's going to last longer. Our cleaning operatives are trained to look for more than just dirty panels when they're cleaning panels and identify other smaller issues before they become bigger ones, such as missing or loose panel clamps.
How often do they need cleaning?
That's a bit more of a difficult question! The easy answer is, when they need cleaning. This might be every 6 months, or every 3 years, depending on the local environmental factors. That's why at Helios we don't recommend a clean every year for every system, or try and tie customers into fixed term cleaning contracts right away, because the customer's panels may not need to be cleaned every year.
What we would suggest however, is when you have your annual system inspection, have the panels inspected at the same time and see if they need cleaning. If in doubt, get a drone up there!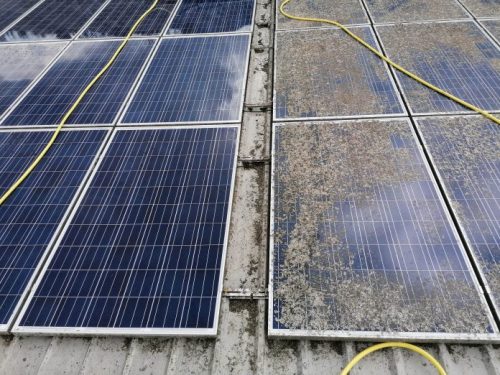 Don't they get cleaned by the rain?
Rain can clean off quite a lot of dirt but panels that are installed in landscape orientation and have a pitch less than 30 degrees will usually need a little help with the cleaning.
How do you clean them?
There are a few ways in how we clean them, but our favourite way, which is the safest and provides the best results, is with our specially designed solar panel cleaning robot. With brushes front and back that rotate at 180rpm, it never gets tired or needs a tea break and can clean up to 4000 panels in a day. 
Do you need special water?
Every panel likes a little whisky now and then…seriously though, there's some companies out there that say you need completely pure water to clean panels. Rubbish. Check your solar panel manufacturer's installation & maintenance guidelines and you'll see what they suggest, usually they say that "clean water" should be used.
The only thing that is common across the spectrum of panel manufacturers is that they say that panels should be cleaned either early in the morning, or late in the afternoon to prevent "thermal shock" from happening. This happens when you pour cold water on to hot panels.
I'm still amazed that Helios are the only specialised solar panel cleaning contractor in the UK that actually has the ability to heat the water we use to match that of the panel temperature. We've seen panel temperatures exceed 70°C here in the UK and we can heat our water up to 78°C if required.
When is the best time to clean them?
Depending on how dirty they get, usually before the peak generating months that start in March/April but the main thing is that you get them cleaned when necessary.
As I said previously, Helios can clean panels throughout the day but if the temperatures start edging above 25°C, get your cleaning company to stick to early mornings, late afternoons – or give us a call if they can only work throughout the day.
Also, some panels should only be cleaned at night! These are known as "thin-film" modules which should never be cleaned under electrical load. Fortunately for us, there aren't too many of these panels installed across the UK.
What does it cost?
Ouch! Toughest question yet! It really depends on the size of the system. We've got certain fixed costs we first need to take into consideration such as salaries, equipment, travel and usually a cherry picker. So before we've even started our costs are quite considerable. Usually, you'd be in the region of £2,000 – £2,500 for a 250 kWp rooftop system, or up to around £5,000 for a 1MW rooftop system.
The best thing to do though is give us a call on 01525 632238 and we can provide a bespoke price for customers within 48 hrs.
How do you access the roofs?
Usually via a cherry picker but we also carry a portable access tower for some lower roofs, commonly found on poultry sheds.
Do you need training to do it?
Oh yes! A lot of training is required to be able to carry out this job safely and efficiently. All of our staff are first aid trained, have cherry picker training, working at height training and we have a local farmer with 400 kWp on his site who allows us to train new staff members on a variety of his different roofs before they work on any "paying" customer's roof.
What's the hardest job you've done?
Now then…they're all hard in some way but I guess the most soiled panels I've come across were on a chicken farm…they'd never been cleaned and were covered in lichen. We had to pre-treat the panels first and then had a couple of days with the robot to get all the lichen off. The results were well worth it though!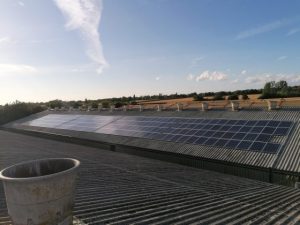 If you would like to speak to Robert about having your solar panels cleaned, or maintained, you call Helios today on 01525 632238.